Why a custom boat cover?
Custom boat covers are for anyone that has stored their boat all winter only to uncover it in the spring and find that an animal has made a nest in your boat.
 If you have ever experienced your guests screaming at the top of their lungs when they discover that rodents decided that the space under your deck is the most comfortable place to live you need a custom boat cover.
But my personal favorite are the squirrels that have a taste for wiring that will cost a fortune to repair.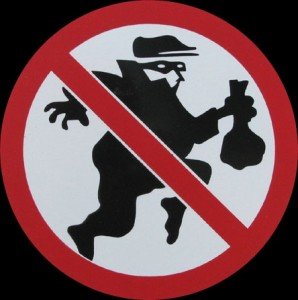 Custom covers also help keep a bigger animal out of your boat, humans. It is just too easy for people to grab things from a boat that's uncovered. Gas tanks and batteries are just too tempting to pass up for some people.

A snug fitting top is probably the one thing that will make a thief pass your boat up. Make it as difficult as possible for thieves to know what you have. More importantly, make it hard for them to access it.
You don't have to have your custom boat cover made by an upholstery shop. You can buy a custom boat cover specifically for your make and model online or in a boat accessories store. You can find a custom boat cover for just about every make and model of boat.
Some people just like to know that their cover was tailor made for their boat or want specific features or colors for their custom boat cover that can't be found pre-fab. When you factor in shipping and all the bells and whistles, the price may be comparable either way.  
Where to Buy Custom Boat Covers
Amazon.com has boat covers from a variety of different vendors so the selection is better.
Cabelas has a great selection.
Overton's has a nice boat cover selection tool that makes ordering easier.
Or you can do a Google search for custom boat covers, there are tons of retailers all over the internet.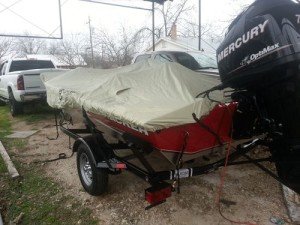 Regular Boat cover
Whether you buy your custom boat cover pre made or have it made specifically for your boat at the upholstery shop here are some things to consider.
Custom Boat Cover Material –
Go for a polyester canvas material, it's the best for water resistance and it won't shrink or stretch, this will work well and last a long time.
UV Resistant – using material with a UV inhibitor will definitely extend the life of your cover because it inhibits the sun from breaking down the material, keeping good color is an added benefit.
Mildew resistance – this is a must. You will be dealing with a lot of water especially if the cover will be in the elements year round.
Water repellent – who wants a boat cover that won't repel water, isn't this the purpose? Believe it or not, not all boat covers are water repellent keep an eye out to make sure yours is.
Inspect the seams to make sure that all seams and corners are reinforced. Good seams with multiple layers are a sign of good quality. It means that the cover will last a lot longer through stretching and pulling when taking it on and off of the boat.
Custom Boat Cover Functionality
Weight – A heavy cover does not mean higher quality, the lighter the better. Taking the cover on and off should be as convenient as possible. If the cover is too heavy it could be a pain to fold and store and inhibit you from using it regularly and literally, it could cause back pain.
Trailering – If you will be trailering the boat and driving a good distance, the cover will need special straps to make sure the cover stays on the boat securely while you're on the road. If this is a custom boat cover made by an upholstery shop make sure to let them know you need trailering straps.
Vents – Not all boat covers have this but it helps to circulate the air under the boat cover to avoid condensation and mold.
Bow Straps – the bow straps help the cover fit securely around the bow, if the bow is secured the rest of the cover will fall into place nicely.
Tie-down straps – most boat covers have tie-down straps but you're looking for the quality of the strap, belts and hooks.  If they are flimsy they are going to break.
Mooring tie down kit – if the boat will be staying in the water make sure you have the correct tie down kit for your cover. A suction cup kit is probably your best bet. Depending on the size of your boat you may need bigger or smaller suction cups. Check Amazon.com for varieties. 

These are the most important features of a custom boat cover. If you are having the cover custom made make sure to go over the things you want with the upholstery shop. This way they know what you are expecting and can price your custom boat cover accordingly.