The Upholstery Tools Market
The upholstery tools market is sometimes a little behind the times and there aren't a lot of
resources specifically for automotive upholstery tools to innovate and improve our work. I'm not sure why this is, but like a lot of upholsters, I have to improvise and make my own upholstery tools.  If the upholstery tools market isn't keeping up we always find a way to get the job done faster and better.
Upholstery tools like these pneumatic fasteners and molding removal tools are the exception, these were made especially for removing automotive interior paneling, the time something like this saves is invaluable.

Sometimes if feels like there is not enough time in the day with everything you've got going on and all the projects you have on your plate. To save you some time later on down the road here are a few more tools you never thought you needed but may not be able to live without once you use them.
Point to Point layout tool
This tool can't be used for great accuracy in dividing, but it does a good job measuring points for pleats and buttons. You basically lay it over the area that needs to be marked and it does the rest for you, no measuring just mark the point's laid out on the ruler. Pull, push, lock and mark, it's that simple. No measurements with a ruler. This is not an upholstery tool, it's designed to be used by woodworkers but it serves a good purpose for upholstery too.
Contour Gauge
A contour gauge really comes in handy when you're marking door panels or making custom consoles. It makes it so much less time consuming than to mark the pattern on cardboard, test it, cut it again until you get the cut. With this thing all you have to do is lay it on the contour your trying to trace and it holds the shape you need. Then all you have to do is transfer the shape using a marker, one time! For door panels and consoles, longer is better.  Again, these are not upholstery tools and I haven't seen any that are longer than 15" but specialty woodworking places might have them.
Flexible Curve Ruler
I custom design a lot of the work I do and this ruler helps out a lot in making smooth curved shapes for door panels and center consoles. The best thing about it is you can play with it, change the shape until you find something you like and it will hold that shape so you can trace it out as many times as you need to.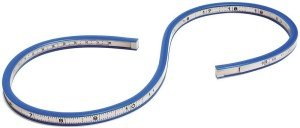 This ruler can also be used to get the pattern of a seat if the old material is too wasted and worn out to transfer. You can also use it to reshape the foam on a seat that's lost its shape. The ruler helps with getting measurements and the fact that the ruler holds its shape makes it easy to transfer the pattern more accurately.
Headrest Shrinker
A small trash bag and a shop vac, okay these are more makeshift upholstery tools than something you can go out and buy but it helps out with those stubborn headrests. Put the bag over the headrest and remove the air with the vacuum to make it easier to get the headrest over the foam.  The concept is similar to a spacesaver bag, it works by removing the air from the foam in the headrest and shrinking it down so that the material can easily be put over the foam. The downfall is that using the shop vac like this will wear on the motor.
The Hog Ring promotes a pneumatic headrest shrinker specifically designed to do this. I have to be honest I don't have this tool but I want it. It's a more professional and convenient way of working with headrests. I don't know how many times I've seen someone struggling with a headrest (myself included), with this tool you don't have to. Once the tool is removed the foam goes back to its original shape and the headrest is ready to be secured. This tool will save you time and energy!
Flex N Hold Steering Wheel Bracket
Here is another upholstery tool I saw on The Hog Ring, the price is steep but if you do a lot of steering wheels something like this is well worth the money. Imagine the time you would save if you didn't have to worry about readjusting the steering wheel to get another angle and how much faster you would get the job done if you're not worrying about holding up the wheel while you stitch it together.
Re purposing as upholstery tools
There are a lot of tools not specifically made for upholstery that have a lot of use in the industry.  This is particularly true when you don't have a second hand. I know a lot of us are one or two man shops and we can use all the help we can get. The idea behind this post is to get you thinking about how you can use tools made for other crafts and re purpose them as automotive upholstery tools to make our job a little easier, I'm sure there are a lot more out there.