The word "vinyl" brings to mind the hard, shiny materials right out of a 50's diner but vinyl has come a long way. Some vinyl material so closely resembles leather that sometimes it's difficult to tell them apart. It goes without saying leather is a highly superior product over vinyl material. However there are some benefits of vinyl material, mainly the cost. If cost is a big factor for you then this article will give you an idea of what you will be getting when making the decision either way.
Vinyl Material and Cost
If your concerned solely with cost, the way I look at it, you can make this decision in one of two ways…cost up front or cost in the long run. If you're going to keep the car or upholstered furniture for a long…long time then (well maintained) upholstery leather will actually cost you less in the long run because you will save on reupholstery cost which can be substantial. There are a lot of opinion to the contrary saying that vinyl material is more durable but in reality vinyl is much more prone to cracks than good leather. Even the best vinyl material shows damage faster than good quality leather.  There are some cheap leathers out there that are thinner and will fade, crack and wear much faster than good quality leather and you will spot the difference simply by the feel and look of the product. Leather used for upholstery should be thick, have a nice suede finish on the back, have very little imperfections and feel soft and supple to the touch.

 How long are you planning on keeping it?
If you like to change the look every few years or will not be keeping the vehicle for a long time, why would you spend the money on a leather interior? Vinyl upholstery will have the same look with a wider range of color options to choose from and a texture similar to leather with less maintenance.  This means less time spent caring for your vinyl upholstery versus leather. The costs of upkeep for vinyl material is also less expensive as the convenience of household cleaners are readily available. Leather requires special conditioners and special cleaners for upkeep of the upholstery in order to maintain the look, feel, color and texture of the leather.
 Do you prefer the feel of leather or vinyl?
People tend to favor the feel of leather and the majority of vinyl material cannot mimic that leather feel or smell. Second, vinyl tends to get sticky and it can get very hot when exposed to sun as compared to leather. Leather will breath much easier, will not get sticky on a hot day like vinyl will and it breaks in nicely and gets even more comfortable over time.
When vinyl material is
always

the best option

If you are contemplating leather for boat interiors or motorcycle seat upholstery please note that upholstery leather is a good option for auto interiors and furniture but should never be used on boat interiors and motorcycle seat upholstery should be covered if it will have constant exposure to the elements.  Only use marine upholstery materials in these types of vehicles as leather should never be used under unpredictable weather conditions and where sun exposure will be constant.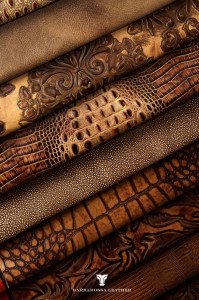 Variety of Options for Leather
Just like vinyl, leather has also had some dramatic improvements in color and texture choices. Dyed leather has become a very popular but expensive option, just make sure that you are not getting surface dyed leather, aniline leather is the best and highest quality dying method. Perforated, embossed, printed, pearlized and antiqued leather materials are all current trends in auto interiors that have been giving the vinyl market a run for its money. People that prefer real leather with the options that at one time had only been reserved for vinyl can now have their cake and eat it too! Barbarossa Leather has some really good examples of what can be done with leather to customize it and really make it your own.
Repair and Maintenance of Vinyl and Leather
Repairing worn spots or tears in your vinyl upholstery is much easier with vinyl material. Repair of upholstery leather is harder to match versus vinyl simply because vinyl does not fade nearly as quickly as leather will.  Leather changes in color over time and will take on a darker hue. Typically repairs will be made years after the original upholstery was installed so trying to match the color for repairs will be harder for leather material after a certain amount of time as the leather will be darker and the panel being replaced will be notably lighter.
Leather upholstery repair is an option offered at a lot of upholstery shops or stores that carry automotive upholstery supplies and even on Amazon.com if you're willing to do it yourself. There are kits available to make repairs to both leather and vinyl material without having to replace the entire panel of fabric. Just make sure that the company you choose to repair your leather or vinyl material is reputable and does a good job at matching the existing material or the kit you choose is good quality and easy to use. Leather is very expensive. The last thing you want to do is cause further damage. You may be able to fix some tears with a DIY kit but not all, don't get your hopes up too high with color matching either, unless your working with black or white leather the color is going to be very difficult to match.
 Ask yourself these questions when making your decision:
What do you use the vehicle for? If this is a work vehicle or a vehicle you use to load up heavy items on the seats, odds are you will tear the leather and your better off with vinyl.
Do you have pets? If you do and you are not 100% confident that they will not dig in to your brand new interior…go with vinyl.
Do you have a big family? Are your kids well behaved, I know mine aren't. They spill things, write on the back of the seat, carry mechanical pencils in their back pocket and these are only the things I've caught them doing, who knows what else is going on in the back seat. Kids will be kids and unless yours are the exception, go with vinyl.
How much distress is the interior going to take? What kind of care is the car going to get? Do you have the time and patience to treat your leather every few months, I love my cars so there is no question for me but if you feel that this would take valuable time away from other things you could be doing, go with vinyl.
Is it going to be garage-kept or will it be out in the elements? If you're set on leather but you can't keep your car in the garage at least invest in some tint and a sunshade, a car cover or go with vinyl.
How much time do you spend in your car? If you spend a lot of time driving, especially in hot weather, leather is by far the most comfortable and will be well worth the money.